Basement Finishing & Radon Mitigation Contractors Serving Metro Detroit
Creating Beautiful Remodeled Basement Spaces in Sterling Heights, Milford, Ann Arbor,
Livonia

& Nearby
Finishing Basements...It's ALL we do!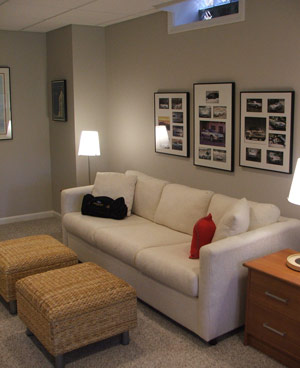 Drywall Simply Won't Cut It For Basements.
Mold-Proof Wall Panels Aren't Enough.
You've Got to Use Mold-Proof,Water Resistant Walls, Ceilings, Molding, Flooring & Post-Wrap,
Plus,
You Must Have an Air System!
Finished Basements Plus has a complete basement solution that is the best of both worlds. MOLD PROOF and BEAUTIFUL. Our wall options are paintable, with no visible seams. We have solutions for flooring, ceiling, trim and air system to control moisture... A Complete Basement Solution. It all comes with a 50 Year Warranty.
For over a 10 years, we have provided our award-winning remodeling and basement finishing services to hundreds of Michigan homeowners. Using only products and systems with mold, mildew and moisture resistant materials, you can be sure that your newly finished basement will stay safe and sound no matter what the forecast calls for.
Radon Testing & Abatement
Finished Basements Plus is a licensed radon testing and radon mitigation company serving the greater areas of metro Detroit with extensive training in installing radon mitigation systems. The experts at Finished Basement Plus have experience in providing solutions to create safe, healthy and comfortable homes.
Transform Your Basement Into Your Dream Room
Schedule A FREE Estimate
We provide residents of Michigan a free cost estimate and design consultation for a finished basement. We let you build and customize the basement of your dreams by using our 3-D interactive software. Get started today on making your basement your favorite room of the home with our free basement finishing quote to see the difference our solutions can make in your home!
Finished Basement Walls, Floors, Ceilings & More!
The Total Basement Finishing™ System is a complete basement renovation package. This means that you can count on us as your one-stop remodeling source- including the walls, floors, ceiling, windows, lighting, electrical-- anything you need!
With the Total Basement Finishing™ System, you have that lifelong security. Our products include a 50-year basement wall warranty, a 30-year ceiling tile warranty, and a wide variety of waterproof floorings, choosing Total Basement Finishing™ is the way to finish your basement for life.

Additionally, the versatility of this basement finishing system allows for you to do virtually anything you want with your basement. Add an extra bedroom and living space, or mount a TV on our stud-less basement walls and design an entertainment room!
If that doesn't suit you, you can create a home office, children's play area, basement bar, home gym... anything you can imagine is possible through Finished Basements Plus and Total Basement Finishing™!
One Basement Refinishing System - Two Distinctive Looks
When it comes to remodeling and finishing the basement, we use only the finest products available - ensuring you and your loved ones the timeless quality you deserve. We offer two innovative basement wall panel options that can installed to transform your basement into a beautiful and warm place to relax and enjoy.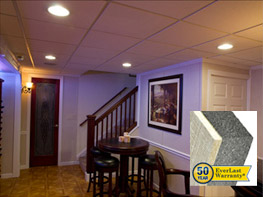 EverLast™ Easy-Care
50-Year Transferable Warranty
Our TBF EverLast wall panel is our highest rated and the leading choice of consumers for finishing the basement. This modular basement wall panel system is our state of the art design that includes SilverGlo insulation, radiant barrier and a vinyl faced cement/ceramic board.
The EverLast embodies everything you would look for in a basement wall panel system from exceptional insulation value to innovative waterproofing qualities, as well as the timeless beauty that is completely maintenance free.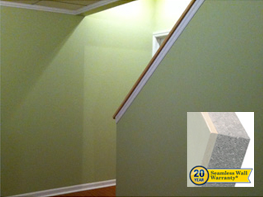 Seamless Painted Wall Panels Featuring Our
20-Year Warranty
Our seamless paintable wall panel system is a great choice for homeowners who want to accent their basement walls with a custom color and design.
Just like the EverLast panel, our paintable wall panel contains the same added benefits of SilverGlo® insulation and radiant barrier as standard features. The seamless paintable wall system will satisfy the most creative homeowner… all while keeping your basement a safe, comfortable and dry environment!
Free Basement Remodeling Quote for Michigan Homeowners
What's included with my free quote?
A professional on-site basement inspection.
A design consultation with Total Basement Vision- our interactive software program.
Your basement finishing proposal-- in writing and e-mailed to you or printed right away.
Our full-color 88-page book: "Basement Finishing Science".
If you're interested in planning and pricing for your remodeling project, Finished Basements Plus can help. We would like to offer you a free basement design quote at no obligation. Bring YOUR space from Basement to Beautiful in no time at all!
Finished Basements Plus is your locally owned and operated Total Basement Finishing™ contractor in the Michigan area. Our mission is to provide you with responsible basement finishing, at a fair price, while providing the best customer service in the contractor industry.
In operation since 2003, we proudly serve residents all throughout Michigan with our basement finishing services. Our service area includes: Ann Arbor, Warren, Sterling Heights, Livonia, Canton, Troy, Southfield, Utica, West Bloomfield, Pontiac, Waterford and cities nearby!
Looking for a price? Get a no cost, no obligation free estimate.