Radon Testing & Mitigation Services in Novi, South Lyon, Howel, Highland, MI Areas
Protect your home and your health from radon
You can't see, smell or taste radon, but it might be a problem in your home. Radon is found everywhere. In Michigan, as many as 45% of homes have elevated levels of radon. Any home can have a radon problem, including new and old homes. Testing is the only way to know if you and your family are at risk from radon.
If you are looking to test or mitigate your home, call Finished Basements Plus at 1-855-221-4680 today. We are certified and experienced in radon testing and mitigation and have helped hundreds of homeowners in Highland, South Lyon, and Howell just like you!
Why radon is bad
Health experts sometimes refer to radon as the silent killer, and for good reason. Radon is a naturally-occurring radioactive gas that is emitted from rocks and soil. When you breathe air containing radon, you can get lung cancer. In fact, this radioactive gas causes thousands of deaths each year and is the second leading cause of lung cancer in the country.
How radon gets into your home
Radon typically moves up through the ground to the air above and into your home through cracks and other holes in the foundation. Your home traps radon inside, where it can build up, causing elevated radon levels. Radon can also enter the home through well water.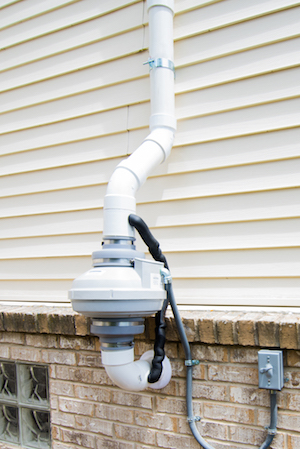 A vent pipe and fan pulls radon from beneath the house and vents it outside.
Testing for radon
Radon testing is easy and affordable. The amount of radon in your home's air is measured in picocuries per liter of air, or pCi/L. The Environmental Protection Agency (EPA) recommends you fix your home if your radon level is 4 pCi/L or higher, but any radon level poses a risk and should be reduced.
As a certified radon professional in Highland, South Lyon, Howell and surrounding areas in Michigan, Finished Basements Plus offers both short-term and long-term testing options.
Fixing a radon problem
There is no safe level of radon, but your risk can be reduced by lowering the radon level in your home. Radon mitigation can reduce radon levels in your home by up to 99%. The right radon mitigation system depends on the design of your home and several other factors. Finished Basements Plus' experts can determine the best method to reduce radon levels in your home.
If you're ready to test your home or you need a radon reduction system installed, contact us today! We perform radon services in Highland, South Lyon, Howell and surrounding areas.
Looking for a price? Get a no cost, no obligation free estimate.